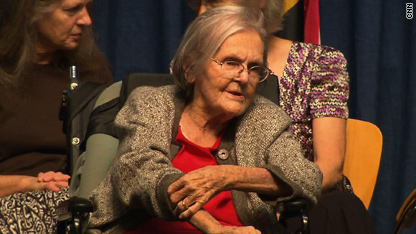 You may not know her name and her face may not be familiar, but Dr. Frances Kelsey is a rock star to those at the Food Drug Administration where she worked some 50 years ago. Wednesday, she was honored by the Agency for her commitment and her courage.
In 1960 Kelsey's first assignment was to review an application for a little known sedative being given to pregnant women in Europe for morning sickness. The drug, thalidomide, had already been approved in 20 other countries.
Despite pressure from the manufacturer, who even threatened a lawsuit, Kelsey refused to approve the thalidomide application, insisting they provide evidence of safety before the drug was approved here in the United States.
As that battle raged on, thalidomide was linked to severe birth defects when more than 10-thousand children worldwide we were born limbless or with flipper-like arms and legs.
"Thousands of American Children were spared that fate because Frances Kelsey was steadfast in her determination that it would not happen here," said Dr. Janet Woodcock, Director, Center for Drug Evaluation and Research at FDA. "In every possible way, she's been a game changer. Her actions helped transform the FDA and drug regulation."
In fact, because of Kelsey's perseverance, legislation that would give the FDA new authority but was stalled in Congress actually passed. In 1962, amendments to the Food, Drug & Cosmetic Act mandated clinical trials, implemented informed consent, and gave the FDA access to all study data.
That same year, President John F. Kennedy gave Kelsey the President's Award for Distinguished Federal Civilian Service. She was the second woman to ever get that award.
The March of Dimes notes that "Dr. Kelsey often is credited with sealing the FDA's reputation as the world's premier authority on food and drug safety."
Kelsey, who is now 96 years old, is the first FDA employee to receive the honor she received Wednesday. Now, ach year, the FDA will select a staff member to receive the "Dr. Frances O. Kelsey Award for Excellence and Courage in Protecting Public Health."