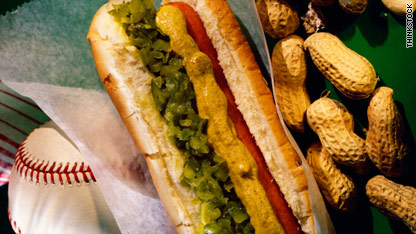 No word on changing the song lyric "Buy me some peanuts and Cracker Jack," but baseball teams are getting more sensitive to  people with peanut allergies.
The Cleveland Indians is having its first ever Peanut Aware Zone at Progressive Field in Cleveland, Ohio, for Sunday's game against the Kansas City Royals, reports CNN affiliate WOIO.
On September 26, peanuts will not be allowed in Sections 303 and 304 to make a Peanut Aware Zone. The initiative is a partnership with the Food Allergy & Anaphylaxis Network. Part of the money made from tickets in the peanut-free zone will go to that organization and to food allergy research.
Here are some guidelines for participating, from the official page:
– No peanuts or tree nuts will be allowed in sections 303 and 304 for the September 26 game.
– No peanut vending will be allowed in sections 303 and 304.
– The Peanut Aware Zone (sections 303 and 304 and surrounding areas) will be power washed and cleaned after previous night's game.
The Indians are alerting fans that this will only be a "peanut-controlled" area because it cannot guarantee that the area will be completely peanut free. Fans will likely be munching away in other areas of the ballpark, and it's not certain that peanut particles or residue won't get near the Peanut Aware Zone.
The Indians aren't the first team in the Major League to promote allergy awareness by restricting peanuts at certain games. Others include the Washington Nationals, the Seattle Mariners and the San Diego Padres.
Peanut awareness is also catching on in the minor leagues, as CNN reported last summer.