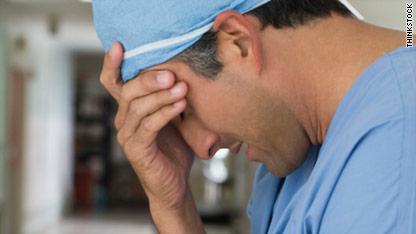 Many medical residents work while they are sick, according to survey results published in the Journal of the American Medical Association.
This phenomenon is called presenteeism, and it means that workers may be spreading illnesses to colleagues and clients (or, in this case patients) because they don't take time off when they should. For medical residents, poor health may also lead to declines in performance that affect patients and fellow health professionals, the authors wrote. They are Dr. Anupam Jena, Dr. DeWitt Baldwin Jr., Steven Daugherty, Dr. David Meltzer, and Dr. Vineet Arora.
Researchers surveyed 744 residents in a variety of specialties at 35 programs in 12 hospitals. Participants answered questions about their health and work habits during the 2008 to 2009 academic year.
The study authors found that about 58 percent of participants said they worked while sick at least once and 31 percent said they showed up for the job sick more than once that year. Residents were more likely to have worked while sick if they were in their second postgraduate year than in their first. These results are similar to those found in 1999, the study authors said.
Presenteeism may depend on hospital culture, the authors say. At one hospital, 100 percent of respondents said they had worked while sick.  The rate ranged from about 51 to 72 percent at the 11 other hospitals.
"Residents may work when sick for several reasons, including misplaced dedication, lack of an adequate coverage system, or fear of letting down teammates," the authors wrote. "Regardless of reason, given the potential risks to patients related to illness and errors, resident presenteeism should be discouraged by program directors."