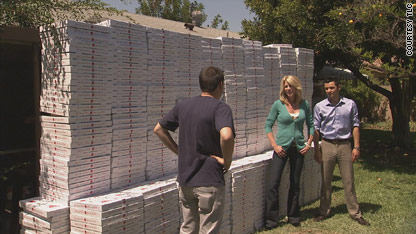 TLC's new show that started September 5 shows people with a compulsion toward a particular food, meaning they eat only one item -  like cheeseburgers, french fries or pizzas - all the time.
On the upcoming shows, a 29-year-old mother eats only french fries and a 34 year-old diabetic is addicted to cheeseburgers.  In "Freaky Eaters," psychotherapist Dr. Mike Dow and nutrition specialist J.J. Virgin, intervene to figure out what compels the finicky eaters to obsess over the same food.
Dr. Ovidio Bermudez, the medical director for Child and Adolescent Services at the Eating Recovery Center, said he hasn't heard much about this type of behavior in adults.
"Usually it's a problem with children with extremely picky eating," said Bermudez, a past president of the National Eating Disorders Association.
CNN's Eatocracy on Routine Repasts
Children who usually stick to just one type of food have suffered some sort of emotional disturbances or have fears of vomiting or choking that compels them to stick to one food.  They usually outgrow this.
"It's rare to see adults with that narrow of menu choices," Bermudez said.  "It's almost unheard of."
The average person cycles through his or her menu every 10 days, meaning an average lover of pizza might eat the item once every 10 days. Some people cycle through the menu less frequently by eating something every 20 days instead.  The 10 to 20 days is the normal range, he said.
Eating the same thing every day is highly abnormal, he said.
"There's two ways of looking at it- there's an obsessive component – 'I want the same thing all the time,'" he said.  "That can be obsessive.  The other is avoidance. 'These are the only things I feel safe eating.'"