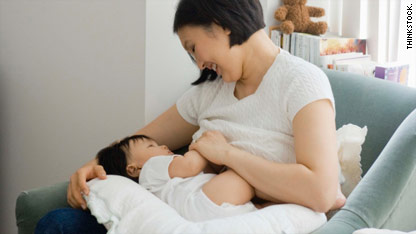 Moms are encouraged to breastfeed exclusively for the first six months after they give birth, but how many actually follow that advice?
It turns out that 75 percent babies start breastfeeding, but only 43 percent are still being breastfed at 6 months of age, according to the Centers for Disease Control and Prevention's 2010 Breastfeeding Report Card. Even fewer are exclusively breastfed: At age 3 months 33 percent receive breast milk and no other foods or liquids. This is true for 13 percent of babies at age 6 months. 
Since 2005, the American Academy of Pediatrics has recommended "exclusive breastfeeding for approximately the first six months and support for breastfeeding for the first year and beyond as long as mutually desired by mother and child," because some studies suggest breastfeeding may protect babies against sudden infant death syndrome (SIDS), diabetes, obesity and asthma among others and can help reduce the risk of breast and ovarian cancer for the moms.
The numbers are based on children born in 2007. The numbers of babies being breastfed at age 6 months (1.8 million) and 12 months (fewer than 1 million), as well as the numbers of babies exclusively breastfed, are about the same for the third consecutive year.
Utah had the highest rate of babies who had begun breastfeeding, at 90 percent. Mississippi had the lowest, at 52.5 percent.
When it comes to following the six-month rule, Oregon leads the pack with more than 60 percent of babies; Louisiana was last at 20 percent.
An April study in Pediatrics found that nearly 1,000 preventable deaths occur in the U.S. each year because of failure to follow breastfeeding recommendations. Breastfeeding in the first six months of life, as recommended, would save the country $13 billion annually, the study said.
Also, researchers from the Netherlands reported in Pediatrics in June that these breastfeeding recommendations can reduce baby's risk of serious lung and intestinal infections.
Worldwide, breastfeeding for the first six months could stop more than one million child deaths, according to the World Health Organization.
Nursing mothers will get support in the health care legislation that President Obama signed this year. That law says that, with the exception of companies with less than 50 employees, employers must provide a space where women can express milk.