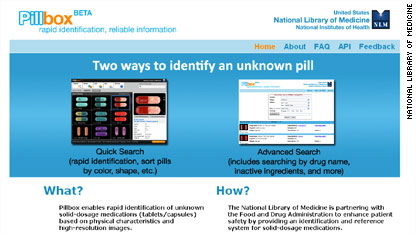 Poison control centers get more than 1 million calls a year about medicines that need to be identified. And maybe you've been in situations when pills seem to wander away from their labeled bottles, and you don't know what they are.
Now the National Institutes of Health is developing a way to quickly identify medications based on appearance. Pillbox, in its beta testing phase, gives possibilities for your mystery pill based on its shape, color, size, imprint, and "scoring" (how many pieces it could be broken into based on those little lines).
There's also an advanced search so you can go the other way: Search for a drug and see what it's supposed to look like. At this early stage, though, there are plenty of listings that don't have images. Pillbox has 10,562 records, but only 912 currently have images, the website says. The National Library of Medicine and the Food and Drug Administration are working on photographing more pills.
Pillbox has more uses than pill identification, said David Hale, developer of the NIH's web tool.  He said it's been used to teach pharmaceutical students, to list inactive ingredients in pills that people might have sensitivity or allergies to and to help law enforcement.
Hale made an announcement this week at the Gov 2.0 summit that new data were now available on Pillbox and that it was also giving access to tech developers to innovate ways to use the data. Pharmaceutical companies were invited to send samples of their drugs so more images could be placed into the system.
This tool is still under development and not intended for clinical use, the NIH warns.
Hale said Pillbox was released with the disclaimer to make sure "everyone is involved in the conversation and all stakeholders are validating the process in an open and transparent way."
Here's more on how it was created from Mashable. It is intended for emergency responders, poison control centers, health care professionals, and everyone else.
Call the national Poison Help hotline at 1-800-222-1222 if you suspect a poisoning emergency.