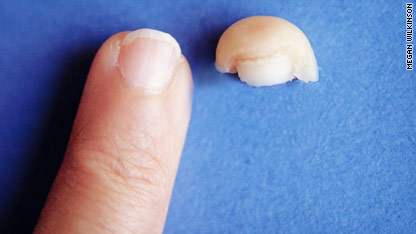 On a normal day, Dr. Stephen Badylak's office at the University of Pittsburgh receives five or six e-mails requesting help from people who've lost various body parts, particularly fingertips or toe tips.  Yesterday, because of our Empowered Patient article about Deepa Kulkarni, a woman whose pinky tip grew back after treatment, his office received several hundred, the doctor told us.
This, coupled with the nearly 1,000 comments on our article yesterday tells us many of you are interested in this new field called regenerative medicine and what it can and cannot do.
First, let's talk about how the healing process usually works when someone loses a body part.  After the bleeding, there's a period of redness and inflammation, and then scar tissue forms, Badylak explains.
When we're in our mothers' wombs, however, things worked a lot differently. "If a fetus loses a body part, like a finger, it grows right back, especially if it's in the first 16-20 weeks of pregnancy," he says.
The science of regenerative medicine is based on the belief that we can summon back that ability we had as fetuses.
"We don't lose that information- it's still in our DNA," Badylak says. "For some reason it gets suppressed or overrun by the inflammation and scarring process, but it's still in our genome."
Badylak says regenerative medicine treatments work by re-creating the "glue" that holds our cells together. That glue then signals specific types of cells to grow, such as cells that create skin, nails, or muscles.
There are many regenerative medicine treatments on the market. One that Badylak often uses is made from pig bladders.
Here are some answers to questions you asked in our column yesterday about regenerative medicine and Deepa Kulkarni, the woman whose pinky tip grew back.
"Couldn't Deepa's pinky have grown back on its own, naturally, without any medicine?"
Badylak says it would be "rare" for a body part to regenerate in an adult.
"I've never seen it happen, but there are reports out there of it happening, and I trust those reports, but it's on rare occasions," he says.
"I read that fingertip-regeneration in children up to 2 years of age is not all that strange, and happens without the application of "unusual" medical treatment. It might be something our bodies can simply "do" up to a certain age."
Badylak says this is correct. "If a 2-year-old child loses the end of his finger, he's got a reasonable chance it will grow back," he says.
After age 5, however, he said it would be "pretty unusual" to have a body part grow back.
Is this treatment expensive?
Kulkarni says she paid $1,665 for seven weeks of treatment with a product called MatriStem. She says she had to pay for it herself and then she and her orthopedic surgeon successfully convinced her insurance company to reimburse her.