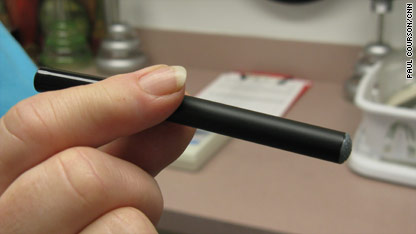 Distributors of 5 types of electronic cigarettes have been warned by the Food and Drug Administration that their products are considered unapproved new drugs and in violation of the Food, Drug and Cosmetic Act.
The FDA sent warning letters E-Cig Technology, Inc of Las Vegas, Nevada;  Gamucci America, Jacksonville, Florida; E-CigaretteDirect, LLC of Parker, Colorado; Johnson Creek Enterprises, LLC, Jackson Creek, Wisconsin; and Ruyan America Inc, of Minneapolis, Minnesota.
The letter reads in part: "Any product that bears labeling claims that it helps stop or reduce the cigarette urge, helps stop or reduce smoking, or similar claims is a smoking deterrent drug product."
"Products that are labeled, represented, or promoted as smoking deterrents, such as the electronic cigarette and cigar products marketed by your firm, are regarded as new drugs," the FDA letter continues.
The Electronic Cigarette Association also was alerted by the FDA.  It was told the devices need to go through the agency's new drug application process. The first step in that process is to file an investigational new drug application, which would require manufacturers to provide data on animal studies and even human clinical trials.
The companies were given 15 days to notify the FDA in writing what corrective actions they plan to take.
Keith King, sales manager for E-CigaretteDirect, said his  company would comply. "It's really unclear whether the FDA has any jurisdiction over electronic cigarettes. We do not promote the electronic cigarette as a stop smoking aid, but the FDA has misinterpreted some of the material on our website. We are going to have to meet their request and make some changes to our website."
Ruyan America president William Bartkowski said his company hadn't offered a nicotine product in the United States in more than a year. "We will promptly respond to the FDA."