Metal. Plastic. Crayon. These are just some of the materials that teenagers have used to injure themselves by puncturing their skin with objects, or putting objects into the wound after cutting. This is called self-embedding behavior, and some teens do it as a way of coping with tough times.
A new study in the journal Radiology found that 11 patients aged 14 to 18 engaged in this behavior out of 600 patients who had received treatment for removing foreign objects embedded in soft tissue.
There were a total of 76 foreign objects among the 11 patients. They had embedded objects in their arms, ankles, feet, hands or neck; some had objects in multiple body parts. The image above shows the objects removed from one patient.
Doctors successfully removed 68 of the foreign objects with a technique called image-guided foreign body removal. With ultrasound, researchers detected objects that X-rays could not, and performed small incisions to remove the objects leaving little or no scarring.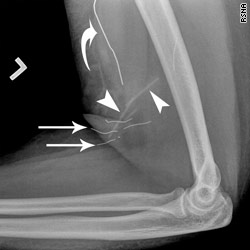 The X-ray of an elbow shown here comes from a 17-year-old girl who had embedded staples (shown by the straight arrows), an unfolded paperclip (curved arrow), and graphite fragments (arrowheads).
One 18-year-old in this study had embedded 35 objects in his body over a period of two years, including staples, the tooth from a comb and a fork tine.
About 13 to 23 percent of adolescents report a history of non-suicidal self-injury, but the real number could be much higher because the shame and guilt associated with these acts lead to under-reporting, the study said.
Self-embedding is a less common form of self-injury than cutting, said Joseph Garbely, chief medical officer at Friends Hospital in Philadelphia, Pennsylvania, who was not involved in the study. Teens who engage in self-mutilating behaviors tend to have low self esteem and problems dealing with their feelings, he said. Some come from abusive households. Others are doing it to rebel, or to imitate peers, or to regulate difficult emotions.
Generally, the purpose of self-embedding and other forms of self injury is to take away unpleasant feelings, he said. When engaging in this behavior, the body releases chemicals called endorphins that, at least temporarily, regulate painful emotions.
Most teens will stop these behaviors on their own, Garbely said. If the behavior persists, however, it may be an indication of a serious mental illness such as borderline personality disorder, bipolar disorder, or post-traumatic stress disorder.
Self-embedding is generally not a suicidal act, but a person can develop skin infections or worse: Bone infections or deep muscle infections. Objects may also travel inside the body and get near vital organs, study author Dr. William Shiels told Time. Getting these objects removed early is important.
Parents who notice this behavior in their children should not react with disgust or incredible concern, Garbely said. If there is no immediate health risk, they should not take their kids to the emergency room; instead, they should seek the assistance of a mental health professional, he said. Family therapy is often effective, as issues of abuse, neglect, or fighting among parents could be prompting the teen to self-mutilate.
If the teenager is not willing to see a therapist, the parent should find a mental health professional who has experience dealing with self-injury issues to get further advice for individual situations, Garbely said.