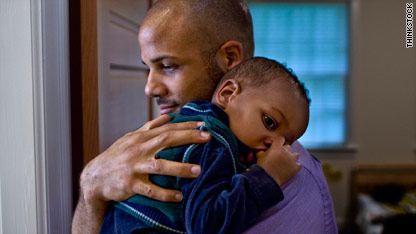 Bringing home baby can lead to depression in as many as one-fifth of fathers during the first year of the baby's life, according to a study published Monday in the Archives of Pediatric & Adolescent Medicine.
While the new study echoed the well-documented notion that mothers have a greater likelihood of developing postpartum depression than men due to hormonal changes during pregnancy, researchers warn against dismissing the risk for fathers.
"There is so much focus on the mother's mental state after giving birth but doctors should consider the family as a whole unit," notes Dr. Irwin Nazareth, study author and Professor Primary Care at University College London. "It is essential to add the father in the equation to properly see the whole issue and look at what the individual and combined effect is."
A study earlier this year had estimated that depression occurred in about 10 percent of new fathers and suggested a link to mothers' depression.
Changes in environment contribute to depression seen in men. Those at highest risk are fathers 24 years of age and younger and those with previous history of depression, according to the study.
"There is often a shift in the personal relationship between the parents, also more demand in responsibility and changes to sleep schedule that can lead to depression among fathers," added Nazareth.
Researchers hope this study will raise awareness about depression among fathers and encourage them to discuss the topic with their families and physicians.
Symptoms typically last more than two weeks and include excessive tiredness, feelings of  isolation and having no interest to engage with new baby.  Treatment includes counseling and/or antidepressant therapy.