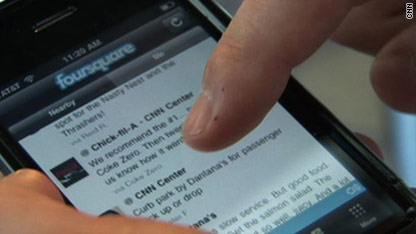 Social networking on phones has gotten competitive with Foursquare, a tool that lets people "check in" at the locations they visit. The reward for frequent visits to a single place is the "mayor" title - which leads to colleagues vying to be mayor of the office parking lot and restaurant patrons trying to score discounts reserved for mayors.
Now there's another distinction you can earn in Foursquare: a badge for getting tested for sexually transmitted diseases. The initiative is part of It's Your (Sex) Life, a partnership between MTV and the Kaiser Family Foundation to promote sexual health responsibility in young people.
The new campaign is called Get Yourself Tested. Its website offers a wealth of information about STDs and how you can get tested, as well as additional resources. You can enter your ZIP code on the website to find a convenient local testing center.
To "unlock" the badge, you just have to check in on Foursquare from the health care provider where you're getting the STD test anytime in September. Once you have the badge, you're entered to win a trip for two to the MTV Studios in New York City, and attend a taping of the show "10 on Top."
The campaign website also has a discussion board where young people can talk about issues such as teen pregnancy and STD testing.
Other unrelated merit badges on Foursquare include "adventurer," "explorer" and "superstar," which reward people who check in at multiple different locations. There's also "crunked," for those who check in at many places in one night.