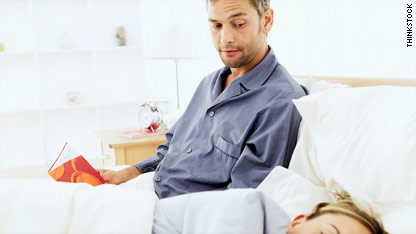 Insomnia kills. That's the central finding of a large study looking at men who complained of chronic insomnia and slept fewer than six hours a night.
Men with insomnia were more than four times as likely to die as "good sleepers" during the 14-year study, published Wednesday in the journal Sleep.
Add hypertension or diabetes, and men with insomnia were seven times as likely to die as those not suffering from sleep problems, the study found.
"We were expecting to find something, but we were surprised by the magnitude of the findings," said lead investigator Dr. Alexandros N. Vgontzas, a professor of psychiatry at Penn State College of Medicine and Hershey Medical Center in Hershey, Pennsylvania.
Self-reported chronic insomnia plus lack of sleep among women did not result in more deaths among women.
The study did not elaborate why, but Vgontzas said he sees two possibilities: Insomnia among women could be less severe, or the study did not follow women long enough. The study began looking at women later than men and followed them for only ten years, not 14.
The study randomly chose 1,741 people in central Pennsylvania, 1,000 women and 741 men, with an average age of 50. Of that group, 8 percent women and 4 percent of men complained of chronic insomnia and slept fewer than six hours when they were measured in a sleep laboratory.
The study adjusted for such factors as age, body mass index, smoking status, alcohol use, depression and obstructive sleep apnea.
Among the men who did not have insomnia, 9 percent died. Of those who complained of insomnia but slept more than six hours, 13 percent died. Among the insomniacs who slept fewer than 6 hours, 51 percent died.
Previous studies have linked lack of sleep with learning and memory problems and increased risks for diabetes and hypertension.
Although the study places those who sleep six or more hours in the "good sleepers" category, the American Academy of Sleep Medicine recommends seven or eight hours of sleep a night. Vgontzas said the six hours was used for the purposes of the study and not to imply six hours is sufficient.