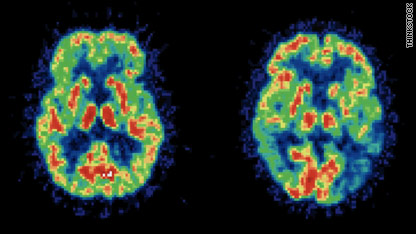 Treatments modeled on the blockbuster cancer drug Gleevec may be the key to finding a cure for Alzheimer's, suggest new data reported in the journal Nature.
Scientists theorize that a protein that accumulates in the brain, called beta-amyloid, develops plaque that weakens certain nerve cells, causing them to die. This creates the breakdown of cognitive function in Alzheimer's patients. The key for scientists is to find a way to eliminate this plaque. Although there are drugs on the market that work at ridding the brain of beta-amyloid, the treatments can also destroy healthy brain cells in the process.
So how do you create this delicate balance? New research from the laboratory of Nobel Prize-winner Paul Greengard, suggests that treatments modeled on Gleevec, a drug used in leukemia and gastrointestinal cancers, could be the solution. It turns out that when scientists modified Gleevec, it had the ability to bind to a protein that triggers the production of beta-amyloid plaques.
The new research shows that this protein, called gamma-secretase activating protein, dramatically increases the production of a specific beta-amyloid peptide, which makes up the plaques found in the brains of most people with Alzheimer's. By altering and reducing this protein, the production of plaques could be reduced. Biochemical studies showed that Gleevec reduces beta-amyloid production when it binds to GSAP.
"Alzheimer's disease is a devastating disorder for which there are no satisfactory treatments," says Greengard, Vincent Astor professor and director of the Fisher Center for Alzheimer's Research at Rockefeller. "Our findings reveal that gamma-secretase activating protein is a potential target for a new class of anti-amyloid therapies."
At this point, research on the drug modification has been done only in the lab or on mice, not in humans. And although the  result seems promising, it is only the beginning.
"We need to give it the attention it deserves. There are a number of hurdles this treatment will have to go through in order to make it effective in humans, " says Dr. William Thies, chief medical and scientific officer of the Alzheimer's Association. "Because they've found it works in mice, is interesting, but people aren't mice. They're more complex and they (researchers) are going to have to come up with different methods, develop different forms of the drug, in order for it to work in humans. That could take a very long time."
Some estimate that it could be 15 to 20 years, because a major problem facing the treatment at this point is the Gleevec molecule does not cross the blood-brain barrier, which prevents some substances in the blood from entering the brain. Greengard, however, believes that it will be possible to design drugs that target GSAP but do not have that limitation.
"Anti-amyloid therapeutic drugs represent a valid approach to treating Alzheimer's disease, but their inability to accumulate in the brain has limited their usefulness," says Greengard, "The development of compounds that work like Gleevec, but have the ability to pass the blood-brain barrier and target GSAP could revolutionize the treatment of this disease."
When asked if he thought this might be the link that could lead to the cure for Alzheimer's, Greengard responded, "I am very excited about that possibility. That's what we betting the farm on. "
According to the Alzheimer's Association, 5.3 million people suffer from Alzheimer's disease. It's the seventh-leading cause of death and rising, as baby boomers move into their golden years.