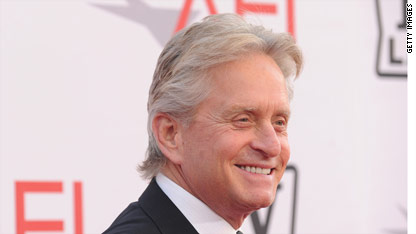 Actor Michael Douglas revealed he is suffering from stage 4 throat cancer in an appearance on "The Late Show with David Letterman" Tuesday night.
Douglas, who has not released any details of his cancer since the initial announcement last month – said he has a tumor at the base of his tongue, and has just completed his first week of radiation and chemotherapy treatments. He also told Letterman that while the cancer has spread to his lymph nodes, it has not spread below his neck.
"This is probably considered stage 4A because it hasn't spread below the neck," said Dr. Nader Sadeghi,  director of Head and Neck Surgery at the George Washington University Hospital, who is not involved in Douglas' treatment.
Sadeghi went on to say that the five-year survival rates for this type of cancer can vary greatly, depending on the size of the tumor, and the number of lymph nodes involved. It may have been caused by smoking and drinking alcohol, the doctor said.  Those are habits Douglas has acknowledged.
The actor told Letterman that early this summer, he underwent a battery of tests to determine the cause of a persistent sore throat, but the tests were inconclusive. It was only when his physician actually saw the tumor in early August that the cause of his sore throat was identified.
He told People magazine that his treatment "knocks you out."
Persistent sore throat is the most common symptom of throat cancer, says  Sadeghi. According to the American Cancer Society, more than 35,000 cases of oral cancers are diagnosed each year.