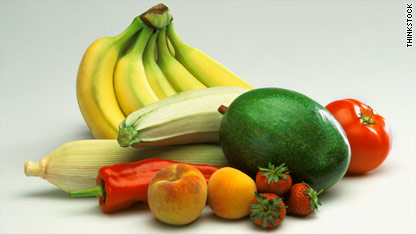 We've all heard the expression, "An apple a day keeps the doctor away." And for years, we've known that at least in spirit, it's  somewhat true. Fruits and vegetables are full of vitamins and nutritionists say they contain ingredients that can fight off certain illnesses.
Now a new study, published this week in Cancer Epidemiology, Biomarkers & Prevention, a journal of the American Association for Cancer Research, finds that eating a diverse diet of veggies and fruit can decrease your risk of developing lung cancer, especially if you are a smoker.
Scientists from The National Institute for Public Health and the Environment, The Netherlands, used data from the European Prospective Investigation into Cancer and Nutrition (EPIC) study and focused on the 452,187 participants' health information. Of these participants, 1,613 had a diagnosis of lung cancer.
Researchers compared participants' diets and noted their consumption of fruit and vegetables, which came in a variety of fresh, canned or dried products. Previous  studies had shown that the quantity of vegetables and fruits an individual consumed could decrease risk of lung cancer, in particular the risk of one specific type of lung cancer, squamous cell carcinoma. The new studies found that regardless of the amount, the risk of lung cancer also decreased when a variety of vegetables and fruits were consumed. In addition, the risk of squamous cell carcinoma, which is common in smokers, decreased substantially when a variety of fruit and vegetables were eaten.
"Although quitting smoking is the most important preventive action in reducing lung cancer risk, consuming a mix of different types of fruit and vegetables may also reduce risk, independent of the amount, especially among smokers," said Dr. H. Bas Bueno-de-Mesquita, project director of cancer epidemiology at The National Institute for Public Health and the Environment, The Netherlands.
Researchers say this is the first study to look at how a wide range diet of fruit and vegetables can affect lung cancer. They believe their data support the theory that produce in all forms has bioactive ingredients that fight certain illnesses, including some cancers.
"The results are very interesting and demonstrate a protective effect in smokers. There are still over a billion smokers in the world, and many are addicted to nicotine and cannot stop in spite of their best efforts," added Hecht, who is the Wallin Land Grant Professor of Cancer Prevention at the Masonic Cancer Center, University of Minnesota. "Tobacco smoke contains a complex mixture of cancer causing agents. Therefore, a mixture of protective agents is needed to have any beneficial effect in reducing one's chance of lung cancer."
But Hecht also noted, "Nevertheless, the public should be made aware and be reminded that the only proven way to reduce your risk for lung cancer is to avoid tobacco in all its forms," he said.
The American Cancer Society agrees. Although its doctors note that the statistics are interesting and worthy of more research, the society stresses, "The best way to avoid developing lung cancer is to never smoke, or quit the habit altogether."