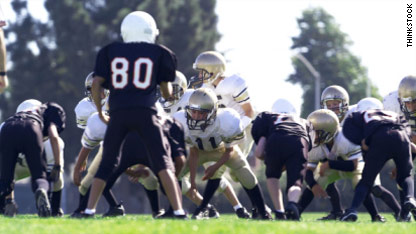 The number of emergency department visits caused by children's concussions more than doubled in the last 10 years, despite an overall decline in sports participation, according to a new study released Monday.
Using data from a sample of U.S. hospitals that have emergency departments, authors Dr. Lisa Bakhos and her colleagues found that from 2001 to 2005, about 502,000 emergency visits came from concussions in children between the ages of 8 and 13 years of age.
Approximately half of these 500,000 emergency department visits were from concussions related to organized sports, according to the article published in Pediatrics.
The authors ranked the concussion rates as highest in children who played hockey (10 per 10,000 participating children) and football (eight per 10,000 participating children).
Some experts have hypothesized that this increase in injuries may be occurring from more competitiveness in youth sports and intensity in practice. But the higher numbers could be a result of increased awareness and reporting.
Researchers at the Warren Alpert Medical School at Brown University wrote that the concussion in such a young age group could cause injuries in the nervous system, prolonged cognitive disturbances, disturbed skill acquisition, and second-impact syndrome, which is a second concussion that occurs before a first concussion has healed, causing brain swelling and other problems.
Pediatricians are concerned that young athletes may experience more severe long-term developmental and cognitive problems from head injuries than adults.
The authors wrote that more work has to be done to standardize the management of sports-related concussions in children in the medical field. No such guidelines have been established for treating young athletes.
"Additional research to provide guidance in management, prevention strategies, and education for practitioners, coaches and athletes is required," they concluded.