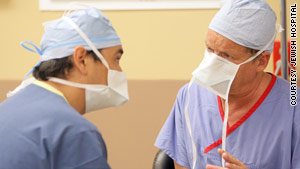 Surgeons at a Louisville, Kentucky, hospital performed a double hand transplant Wednesday, the third such procedure to take place in the United States.  The hospital is providing updates from the surgery on Twitter.
The surgery began around 7 p.m. Eastern on Tuesday at The Jewish Hospital Hand Care Center. A doctor who is not taking part in the operation is micro-blogging on Twitter.
At around 1 a.m., the doctors successfully fused both hands to the transplant recipient by using plates and screws. By 9 a.m. Wednesday, the six hand surgeons were finishing nerve and tendon repair. The team of surgeons came from Kleinert Kutz and Associates and the University of Louisville.
The hospital will not be releasing the patient's identity to protect his/her privacy and that of the family, it tweeted.
Lead surgeon, Dr. Warren C. Breidenbach said in a news release: "The patient's family is very excited about being able to follow the surgery online instead of occasional updates throughout the surgery by hospital personnel. We want others to follow the surgery as well to understand how it all works, identifying and connecting bones, arteries and veins." Breidenbach is in the picture above during a 2008 procedure.
Check here for CNN's affiliate WDRB's coverage of the surgery.
Check back to CNN.com this week for an update on how the first man to receive a hand transplant in the U.S. is doing.