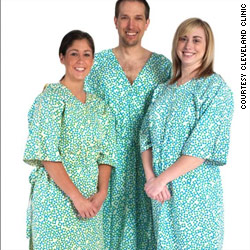 It sounds like a "Project Runway" challenge.
Design a gown that fits all shapes and sizes. Don't use buttons, zippers or Velcro – only snap buttons. The fabric should be soft, but not too warm. Unlike the universally reviled hospital gowns with its open back side, modesty is a must.
Major fashion designers have taken a crack at redesigning the hospital gown: Nicole Miller, Donna Karan and Ben de Lisi. Most recently, Diane von Furstenberg, a Lifetime Achievement Award winner from the Council of Fashion Designers of America, worked with the Cleveland Clinic to fashion its latest hospital gown, which began its trial run last week.
Von Furstenberg, known for wrap dresses and bright prints, created a hospital gown that will be familiar to her fans. There is a wrap element (a string tie) and a vibrant print (albeit a blue and green Cleveland Clinic logo of interlocking C's.)
The fashion company did not return CNN's request for comment.
Von Furstenberg: 'Beauty is health'
The partnership formed after von Furstenberg and the Clinic's chief executive officer and president Dr. Delos Cosgrove met at a conference in 2007.
The traditional hospital gown with its open back makes it easy for physicians to assess the patient, listen to the chest, make incisions, but it's not exactly patient-friendly.
"When the patient comes into a hospital, it's not something they're looking forward to," said Jeanne Ryan, a nurse who led the redesign efforts with the Cleveland Clinic's Office of Patient Experience. "They give up a lot of their security, because of that gown. It's giving up their modesty or dignity. Every time they move, they are exposed. That was really one of the main points. We wanted people to feel comfortable and provide modesty. We wanted to make better product for patients."
The V-neck gowns made of 100 percent cotton twill have IV sleeves with snaps, pockets to make space for monitors and drains.
The Clinic is not the first to try to re-invent the dreaded, flimsy hospital garb. The British health department in a search for a better hospital gown settled on a much more modest, blue-striped gown with a V-neck designed by Ben de Lisi. But change hasn't come to the United States fast enough.
The standard hospital gowns are hideous, said Lindsay Ferrier, a Nashville, Tennessee, resident.
Ferrier, a blogger for the Stir, said during her first pregnancy, she was told to put on a hospital gown and walk around the hallways before she could be checked into the maternity ward.
"I was mortified," Ferrier recalled. "I asked to keep my regular clothes. I was told if you're walking the hallways, you must put them on."
Ferrier didn't want to go on "the walk of shame" with her backside fully exposed in a hallway crowded with patients. So she put wore two gowns to fully cover her body.
To meet demands of women like Ferrier, who've been mortified about parading around hospitals in flap-happy, translucent garb, designers are also creating special gowns for expectant mothers.
Read about it here: Would You Buy a Designer Gown for Your Hospital Stay?