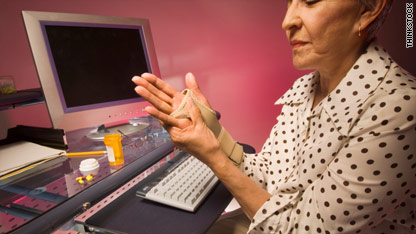 Sometimes the body's response to certain diseases appears to protect against other ailments. For example, scientists have found that people with rheumatoid arthritis tend to have a lower incidence of Alzheimer's disease than the general population.
Researchers at the University of South Florida believe that the connection between these two conditions may lead to a treatment for Alzheimer's. They found that a protein released in rheumatoid arthritis helped mice recover from cognitive problems of Alzheimer's.
Their study, published in the Journal of Alzheimer's Research, looked at the protein GM-CSF, which naturally occurs in the human body in response to arthritis.
A synthetic version of this protein is used in the drug Leukine (sargramostim), given to cancer patients to help them recover from chemotherapy. The Food and Drug Administration approved the drug for use in cancer patients in 1991; Leukine is not, however, approved for use in Alzheimer's patients.
The protein stimulates the production of white blood cells. Macrophages, particular kinds of white blood cells, can enter the brain and get rid of amyloid deposits, which are signatures of Alzheimer's, said study author Huntington Potter, the Eric Pfeiffer Chair for Alzheimer's Research at the University of South Florida.
Research suggests that Alzheimer's disease in mice is similar to Alzheimer's disease in humans, he said. But, as with any mouse study, there is still uncertainty; there have been drugs that worked just fine in mice, but failed in humans or caused serious side effects side effects in humans.
Potter and colleagues are "cautiously optimistic" about the results, Potter said. They plan to conduct clinical trials in humans, have not yet received approval from the appropriate regulatory groups.