To have 19 seemingly healthy high school football players simultaneously come down with a rare muscle syndrome during practice, in which one athlete described his teammates as "dropping like flies," is baffling, said an orthopaedic surgeon.
Last week, McMinnville High School football players were hospitalized after an intense practice. Three required surgery after feeling swelling in their arms, according to CNN's affiliate KATU.
The McMinnville, Oregon, players had "compartment syndrome," which occurs when pressure within a muscle group, called a compartment, increases to an abnormally high level. The Mayo Clinic likens that pressure to a shaken soda bottle.
More about compartment syndrome
The increased pressure within the muscle compresses nerves and blood vessels, cutting off blood and oxygen flow and creating the risk of permanent nerve and muscle damage.

KATU: After alarming training camp, McMinnville football practice starts Monday
"Compartment syndrome is an unusual issue for a bunch of kids on the same team, in the same place," said Dr. C. David Geier, Jr., a spokesman for the American Orthopaedic Society for Sports Medicine. "The whole thing is really, really hard to come to grips with what could be going on."
The players had swelling in their triceps - an unusual spot for compartment syndrome, Geier said. This condition is usually seen in the legs of runners or forearm of pitchers. Geier is not involved in the high school football players' care.
While, not all the McMinnville players required hospitalization, about 34 of them had their blood drawn for testing. The students interviewed by KATU said that they did not know what caused sudden swelling in the arms.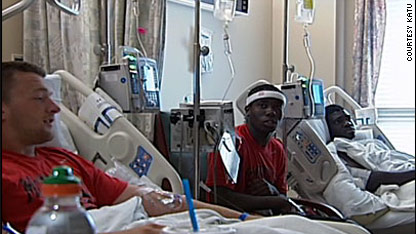 One of the players, Josh Nice told the station: "I was just kind of shocked this was happening to us, like we were dropping like flies from practice."
KATU: McMinnville players 'shocked' at downturn in health
The students said they did not take any body building supplements. A spokeswoman for the Willamette Valley Medical Center told KATU the players were being tested to explore what may have caused so many of them to become ill all at once.
Geier said he hasn't heard of compartment syndrome as a side effect of the use of supplements used by body builders and athletes to build muscle mass.
"That's used so commonly by athletes of all ages, I can't imagine why only one school, one team has this problem," said Geier, director of the Medical University of South Carolina Sports Medicine and an assistant professor of orthopaedic surgery.
In a press conference last week, the superintendent of McMinnville Schools, Maryalice Russell said about the football practice, "We believe it was a strenuous workout, but we don't believe it was excessive."
Football practice was to resume Monday, according to KATU.