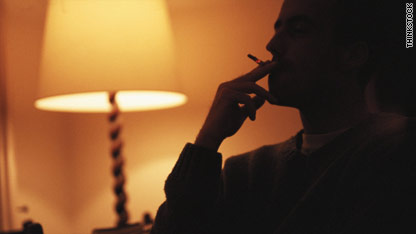 Sometimes it's hard to avoid being around family members who smoke at home or friends who light up at bars. But it's worth it.  Just a small amount of smoke can be detrimental to your health, a new study reports.
"Exposure to cigarette smoke is bad for you, and your lung cells know it, and those are the cells that are central to the disease," said Dr. Ronald Crystal at Weill Cornell Medical College.
Crystal and colleagues  took urine samples from 121 participants to see how much exposure people had to cigarette smoke, measuring nicotine and its breakdown products. This allowed them to classify participants as active smokers, nonsmokers, and people with low-level exposure.
Then, researchers took a small sample of cells lining participants' airways. These cells, called epithelial cells, are fundamental to the diseases of cigarette smoke, such as lung cancer.
They found that even extremely low levels of exposure to cigarette smoke produced detectable abnormal genetic activity in these cells. This included people who said they didn't smoke, and occasional smokers.
"Your lung cells are sort of like a canary crying out, and saying, 'I'm being stressed by cigarette smoke,' even at low-level cigarette smoke," Crystal said.
Scientists aren't yet sure whether these changes in genes are reversible. Other studies have shown that genes of active smokers may not go back to normal even after quitting. But Crystal speculates that the effects of secondhand smoke may be reversible if a person cuts off exposure to smoke entirely.
For those of you who want to quit entirely, don't try to stop thinking about cigarettes altogether, says a new study in Psychological Science.
Suppressing thoughts is a poor method of self-control, researchers say. They found that people who tried to block out thoughts of cigarettes ended up smoking more once they started thinking about it again.