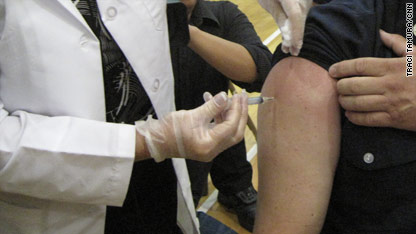 During a scorching summer,  flu shots may not be the first thing on your mind. But, drug store giants are making them available now.
The early availability of these shots follows new recommendations from the Centers for Disease Control and Prevention that all people aged six months and older should receive the vaccine. The agency also said that the annual flu vaccination should begin in September or as soon as vaccine is available and continue throughout the flu season, into December, January, and beyond. Read more here about protecting yourself.
Rite Aid announced that seasonal flu shots became available this week at more than 3,000 of its locations across the country. They cost $24.99 and many insurance plans cover the cost of the shots.
Walgreens also started offering flu shots at its pharmacy locations. The Walgreens' flu shots cost $29.99. Most of the New York City-area Duane Reade pharmacies are also offering flu shots, according to a news release.
The latest seasonal flu vaccine protects against three viruses that research indicates will be most common, including H1N1 and two others.
While the World Health Organization declared that the global H1N1 pandemic is over, the virus is not gone and is part of the typical seasonal flu activity.  H1N1 pandemic is over, health director says
Manufacturers began shipping the new flu vaccines in July. New flu vaccine is on the way