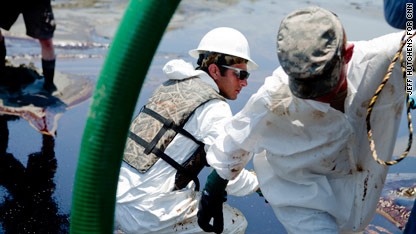 Doctors need to be on the lookout for a wide range of illnesses related to the Gulf oil spill, ranging from cancers to skin rashes, according to an editorial in today's Journal of the American Medical Association.
"Clinicians should be aware of toxicity from exposures to oil and related chemicals" and ask patients where they live and whether they've been exposed on the job, the JAMA commentary said.
The article in the prestigious medical journal said it was difficult to say for certain whether exposure to oil was the cause of the more than 300 cleanup workers and others along the Gulf seeking treatment for such symptoms as headaches, dizziness, nausea, vomiting, coughing, respiratory distress and chest pains.
But long-term health problems are likely, if other oil spills are a guide.
The JAMA commentary pointed to studies from previous major spills showing health effects years later, especially among workers involved in the cleanup.
A study of cleanup workers 14 years after the 1989 Exxon Valdez oil spill found a higher prevalence of chronic airway disease among workers with high oil exposures. Chronic airway disease, or chronic obstructive pulmonary disease, restricts or limits airflow to the lungs. The Exxon Valdez cleanup workers also reported being less sharp mentally and having sensitivity to multiple chemicals.
Studies after the 2002 Prestige oil spill off the coast of Spain found increased DNA damage among cleanup workers and increased rates of respiratory tract symptoms.
Major oil spills in Alaska, Spain, Korea and Wales have also resulted in higher levels of stress, anxiety, depression and post traumatic stress disorder, the JAMA article said, citing studies.
The Centers for Disease Control and Prevention has concluded that the levels of pollutants in the Gulf may result in symptoms including eye, nose or throat irritation, nausea and headaches but are unlikely to cause "long-term harm."
Among the hazardous components of oil with potential long-term health effects cited by the JAMA commentary:
• Benzene, known to cause leukemia.
• Napthalene, a suspected human carcinogen.
• Toluene, which can disrupt embryo development at high doses.
Benzene, toluene and xylene, another component of oil, can also cause respiratory irritation and affect the central nervous system.
Particulate matter, produced by burning oil, is associated with heart and breathing symptoms and is linked to premature death.
The JAMA authors also warned that oil releases dangerous chemicals, including hydrogen sulfide gas and polycyclic aromatic hydrocarbons.
Hydrogen sulfide gas can damage the brain and central nervous system, they said, while polycyclic aromatic hydrocarbons, considered likely caricogens, will accumulate for years in oysters, shrimp and crabs.
The article was written by Dr. Gina M. Solomon, a senior scientist at the Natural Resources Defense Council and associate clinical professor at the University of California-San Francisco, and Dr. Sarah Janssen, a staff scientist at the NRDC, a non-profit environmental group.