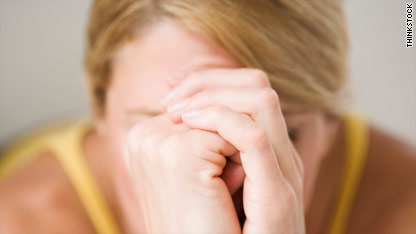 I just saw a report from Dr. Sanjay Gupta about a new study showing that women with increased stress hormones are less likely than others to get pregnant. This made me think of other recent findings on how brain chemistry can affect your ability to conceive a child.
Basically, any changes related to increased activity of the body's stress system make it harder to become pregnant. This makes a lot of sense from an evolutionary point of view. For most animals, and for humans until recently, stress meant that you were in danger of death. In these circumstances it makes a lot of sense for the body to adjust itself to focus its energy on survival rather than reproducing. Plus, why would one want to bring a child into the world in circumstances so dangerous that it is unlikely to survive?
The problem in the modern world is that these same old stress systems get activated by all sorts of daily hassles that no longer threaten death and destruction. So it no longer makes sense for stress to suppress fertility, but tell that to our stress systems that still behave as if we are back in the Stone Age.
The recent study on stress and infertility also helps explain why so many studies have found that people with major depression are less fertile than others. If you look at stress hormones in most people who are depressed, these hormones are increased. One way of thinking about depression is that it is a state in which stress system activity is jammed into permanent hyperdrive.
The practical take home from all this is that if you are having trouble getting pregnant, one of the most important things you can do is work on ways to relax. The hardest part is trying to relax about getting pregnant, which is much easier said than done. And if you are depressed one of the best things you can do is to get treatment. Of course, this is true even if you are not trying to get pregnant!
Dr. Charles Raison,  CNNHealth's mental health expert, is an associate professor of psychiatry and behavioral sciences at Emory University School of Medicine in Atlanta. He answers viewer questions on Tuesdays at CNNHealth.com. Submit your  questions here.