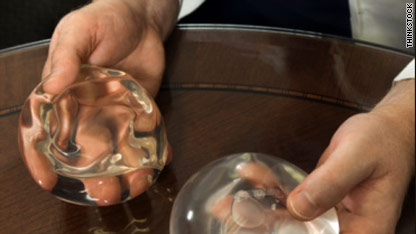 U.S.A. reigns supreme... in the world of plastic surgery.
The United States has the most number of plastic surgeons and total surgical procedures, according to a survey from The International Society of Aesthetic Plastic Surgery.
Americans spend about $11 billion a year to nip, tuck, reduce, enlarge, inject and shape their bodies. That preoccupation with improving tummies, breasts, noses and faces isn't isolated to the United States. Beauty procedures are popular in Brazil (who comes in at a close No. 2) and Asian countries such as China (No. 3) and India (No. 4).
The top two procedures for these four countries are liposuction and breast augmentation. See the rankings here.
Dr. Foad Nahai, president of ISAPS, recalled traveling to Brazil 20 years ago when the popular procedures there were to shape and lift breasts. The Brazilian women then weren't interested in enlargement, he said. But now, breast augmentation is the second most popular procedure in Brazil, according to the survey.
It's fair to say that the increasingly popular procedures around the world seek to mimic Western features, but they vary regionally and have their own ethnic twist, said Nahai, who practices in Atlanta, Georgia.
He said he asked plastic surgeons in a Thai conference what the most common procedures were in that country. The Thai doctors said it was blepharoplasty, in which fat is removed from the eyelid to give a more defined crease, and rhinoplasty that inserts silicone in the bridge of the nose to give more prominence.
The surge of surgeries in China and India could be a product of economic growth, Nahai said.
"As the economy booms, I'm sure there's now a middle class in both countries. There are lots of disposable income and people choose to spend it on cosmetic enhancements," he said.
Recession no barrier to cosmetic procedures
The biennial survey by the organization was conducted by a U.S. research firm as surveys were sent to 20,000 members. The various national societies of plastic surgeons also provided some estimates. The overall survey portion of this research holds a standard error of plus or minus 4.24 percentage points at a 95 percent level of confidence.
Here are the 2009 top 10 surgeries in the world:
1. Liposuction 1,607,979
2. Breast augmentation 1,454,317
3. Blepharoplasty (eyelid surgery) 1,153,756
4. Rhinoplasty (nose surgery) 799,521
5. Abdominoplasty (tummy tuck) 622,022
6. Breast reduction 509,396
7. Breast lift 487,993
8. Facelift 401,902
9. Gynecomastia (male breast reduction) 250,984
10. Otoplasty (ear surgery) 226,017