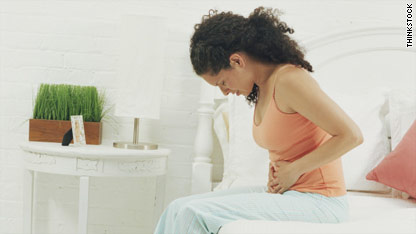 Many women dread "that time of the month" because it comes with sharp pains and even nausea or dizziness. Sometimes, you just want to stay in bed.
But here's a surprise: according to new research, cramps during your period may actually alter the structure of your brain.
A study in the September issue of the journal PAIN looked at 32 patients who suffer menstrual cramps and 32 who do not, matched to the other participants by age and menstrual cycle.  Researchers did MRI scans of participants when they were not experiencing pain.
The study authors found significant changes in the volume of the brain's gray matter among women who usually have period cramps. They found substantial decreases in brain regions that play a role in pain transmission and higher level sensory processing. There were increases in gray matter volume in brain regions that deal with pain modulation and regulating endocrine function.
The consequences of these changes have not been established, says lead author Dr. Jen-Chuen Hsieh, of the Institute of Brain Science, National Yang-Ming University, Taipei, Taiwan. Further study must be done in order to figure out whether these changes affect brain function and if they are reversible.
Stay tuned for a CNN.com article later this week on women and chronic pain.