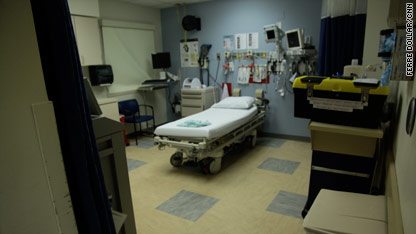 More people are receiving treatment at emergency departments in U.S. hospitals.
A study by the University of California at San Francisco finds that from 1997 to 2007 emergency department visits rose from 94.9 million to 116.8 million.  "This is a 23 percent increase, which is twice the growth of the general population," lead study author Dr. Ning Tang said.
The study, published in the Journal of the American Medical Association,  also finds that the number of emergency departments treating a disproportionately high number of Medicaid and uninsured patients increased by 46 percent from 2000 to 2007.  These departments, classified as "safety net EDs" by the Centers for Disease Control , now represent almost two-thirds of all EDs in the U.S. according to the study.
The number of adults on Medicaid accounted for a large part of this growth. The researchers also found that compared with adults with private insurance, adults with Medicaid were the only ones to increase their visits to EDs for conditions that could have been treated at primary care clinics.
"We're concerned that it could be due to poor access to primary care or it can be due to poor quality of primary care, meaning they get in to be seen but they're not being well-managed by their primary care physician so they end up going to the ED," Tang said.
The researchers found that the median wait times to see a doctor in an emergency department went from 22 minutes to 33 minutes and the number of EDs in the U.S. decreased by 5 percent to 3,925 by 2007.
"The number of visits are going up; we've known that for the last few decades, and yet EDs are continuing to close. EDs are being overburdened and more  and  more people are going to fewer EDs to get their care," Tang said. "We're expecting more people to enroll in Medicaid both as a part of the recession and also as a part of the health care reform bill. We really need to make sure that these patients have access to a primary care physician. Otherwise, if we don't, it will likely add additional strain to our already overwhelmed EDs.