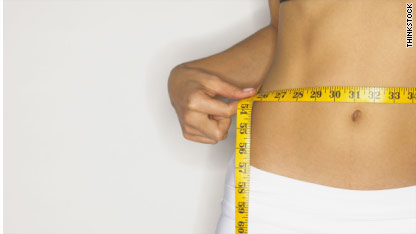 Just an extra four inches on your waist may put you at greater risk of dying from heart disease, cancer or diabetes– even if you are of normal weight.
Researchers from the American Cancer Society followed more than 100,000 older people – ages 50 to 75 – for 9 years. Throughout the course of the study, participants were asked to measure their waistlines and report in.
"We found that those with biggest waistlines had twice the risk of dying than those with smaller waist size," said Eric Jacobs, an epidemiologist with the American Cancer Society, and the lead study author. "Among normal weight women, the risk of dying increased 25 percent for each additional 4 inches of waist size."
At the heart of the tremendous increase in risk due to waist circumference is visceral adiposity, or belly fat deep inside the abdomen.
"The amount of deep abdominal fat is strongly related to metabolic problems," Jacobs said, "including higher cholesterol levels, higher insulin levels and higher rates of pro-inflammatory proteins."
Not to be confused with the belly fat you can pinch, he said, this visceral fat is below the abdominal muscles, and often surrounds the vital internal organs.
So is there anything you can do to reduce visceral belly fat? CNNHealth.com contributor Dr. Melina Jampolis says regular exercise can help.
"Visceral fat is more responsive to diet and exercise than subcutaneous fat, which is good," she said, "but just doing crunches won't get rid of it."
When it comes to nutrition, Jampolis says the key is carbs, like the ones found in breads and pastas.
"The most important thing is to cut back on refined carbohydrates. The visceral fat is very affected by the refined processed carbohydrates and sugars."