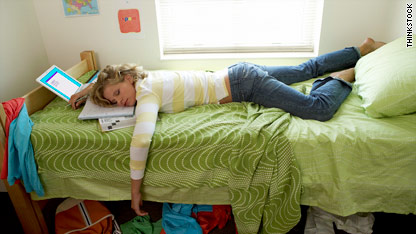 Everyone, even the lightest sleeper, is less aware of noise while they sleep. So what helps us in blocking the outside world when we need to re-juice? And what makes some people deeper sleepers than others?
Dr. Jeff Ellenbogen, chief of Massachusetts General Hospital's Division of Sleep Medicine, led a study looking at particular brain waves called sleep spindles. How many spindles a person's mind cranks out while sleeping predicts how deep he or she sleeps while bombarded with noise, his study in Current Biology found.
While sleeping, a person's brain waves become slower and more regular. Sporadically, the brain has bursts of higher-frequency waves called sleep spindles. These bursts, which occur only when a person is sleeping, were dubbed "spindles" because they look like rolls of yarn on an electroencephalograph (EEG), which measures the electronic activity fired by neurons in the brain.
In the experiment, Ellenbogen studied healthy volunteers placed in a sleep laboratory for three consecutive nights. On the first night, participants could blissfully rest in a lofty queen-size bed and fresh, soft sheets without interruption. Ellenbogen and colleagues measured their brain rhythms and noted how often spindles occurred.
The second and third night, the researchers placed a speaker behind the sleepers and played everyday noises, such as alarm clocks or toilets flushing, at varying volumes and noted how loud a noise had to be before arousing each person. According to the study, those with higher spindle rates on the quiet night were more stable sleepers on the noisier nights.
As a person ages, he or she produces fewer spindles and is more sensitive to noises while sleeping. This could explain why people don't sleep as well after getting older, Ellenbogen said.
Researchers have also found a correlation between spindle rate and learning potential. One study released in 2007 found that the more spindles pumped out while sleeping, the higher the person's performance IQ was. The more spindles a person produces while they sleep, the better a person consolidates memories, Ellenbogen's study report cites.
Long-term, Ellenbogen hopes to find natural ways to enhance sleep and all its benefits. We can't always be in a quiet environment while getting some shut-eye, so he wants to help people make the best of their rest.
He wants to figure out whether sleeping drugs really catalyze genuine sleep or just a sleep-like state, and believes this link between spindles and deeper sleeping will be a tool in doing so.