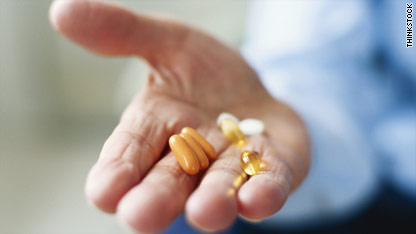 Just because a supplement is labeled natural, doesn't mean it is safe, according to an investigation by Consumer Reports.
The report lists 12 ingredients found in supplements  which are linked to serious side effects and which haven't been shown to do what they claim to do.
They are: aconite, bitter orange, chaparral, colloidal silver, coltsfoot, country mallow, germanium, greater celandine, kava, lobelia, yohimbe.The FDA tells CNN it hasn't been able to determine what scientific basis Consumer Reports is using for their warning.  FDA spokesperson Siobhan DeLancey says the agency has cautioned consumers or provided articles and case studies about possible side effects for 7 of the 12 supplements listed by Consumer Reports (aconite, chaparral, colloidal silver, comfrey, germanium, kava and yohimbe). 
"It is important to note that these potential adverse events are based in large part on a degree of exposure and the duration of that exposure," said DeLancey.  In other words, a specific amount of the ingredient over a specific amount of time.
Problems with dietary supplements have been making headlines for quite some time. Last May, the government's General Accounting Office (GAO) revealed what it learned in an undercover investigation of the deceptive or dangerous marketing of herbal supplements.
Since 1994, the Food and Drug Administration (FDA) has had limited powers to regulate dietary supplements due to the Dietary Supplement Health and Education Act (DSHEA).
Before DSHEA was signed into law by President Clinton, the FDA says dietary supplements were subject to the same regulatory requirements as were other foods.  Since 1994, it's up to the manufacturer to determine that the supplements it manufactures or distributes are safe.
"DSHEA tells the FDA to assume all supplements are safe until proven guilty," said Dr. Pieter Cohen, an internist at Cambridge Health Alliance and an assistant professor of medicine at Harvard Medical School.
While Consumer Reports lists 12 dangerous ingredients, Cohen is concerned about some unscrupulous manufacturers who he said are putting  pharmaceuticals into supplements.  The doctor said they are making some people very sick– including some of his patients.  Cohen had supplements his patients were taking analyzed.  He shared his view in "American Roulette," an article published in the New England Journal of Medicine last October.
Cohen is very concerned about two scenarios not highlighted in the new Consumer Reports article.  Some supplements contain "multiple [prescription] drugs in the same pill" and some supplements contain adulterated versions of existing drugs.  For example, a manufacturer could take the formula for an approved erectile dysfunction drug and add or subtract a few hydrogen or oxygen atoms – thus making the drug undetectable, but also basically creating a new drug which has not been tested or approved by anyone.  "It's  beyond irresponsible," said Cohen.
Of course consumers aren't expecting any drugs in their supplements if they're being listed as "natural."
Cohen believes people need to be aware that they could be buying a supplement from a store or on the internet that can cause serious harm to them.  He said, ".. without the public changing their perception of what's going on nothing will change."  The FDA can't change anything unless Congress changes the law.  Cohen added that ".. powerful forces want to keep the lax regulatory framework."
CNN asked U.S. Pharmacopeia, a non-profit group that sets voluntary standards for supplement manufacturers, about the Consumer Reports investigation. It did not specifically address the supplement ingredients in question but  invited people who want to learn more about supplements to visit their website.
The FDA's DeLancey said the agency encourages consumers to report any adverse events through its MedWatch system.