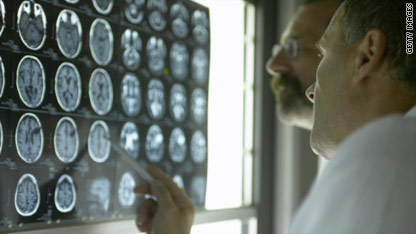 Experts from the Alzheimer's Association and the National Institutes on Aging have proposed the first changes in more than 25 years to update diagnostic recommendations for Alzheimer's disease.
"These criteria will serve us in finding the kind of diagnostic tools and interventions that will help treat people in the earliest stages of the disease and avoid the severe symptoms that are so debilitating," says William Thies, chief medical and scientific officer for the Alzheimer's Association.
The current guidelines have not been updated since 1984. Now, there are several advances making headway, and the panel wants to address shortcomings and provide clinicians with new guidelines. The use of biomarkers was among the top concerns.
The panel did not recommend the use of biomarker exams in clinical settings, citing many variables that can alter the tests, a lack of standardization for administering them and the uncertainty about whether or not an individual with abnormal brain matter will actually develop Alzheimer's disease in the future.
"We think that ultimately biomarker tests will help us be able to identify individuals with Alzheimer's disease" says Marilyn Albert, who chaired the panel's workgroup on mild cognitive impairment. For now though, she says they are not ready to be used by clinicians in the field.
The panelists also updated the framework for researchers to be able to study people with "preclinical AD," a term they use to refer to individuals, particularly those with a family history, who may have developed amyloidal matter in the brain but have not developed symptoms of Alzheimer's.
"Understanding the earlier stages may represent the best chance for treatment prior to symptoms becoming present," explained Dr. Reisa Sperling, of Brigham and Women's Hospital. "We want to be able to monitor a change from one's baseline over time." To help recruit study participants who may not have previously been considered for research and younger generations who are concerned because of a family history, the Alzheimer's Association began the Trial Match website to point consumers towards ongoing clinical trials.
The new recommendations were initially presented at the annual International Conference on Alzheimer's Disease in July, and the panel has been accepting comments on their website. Comments will end this month, and the recommendations will be peer-reviewed by a medical journal.
Critics have expressed concerns that the new recommendations could lead to more people being diagnosed, and that ultimately drug companies would benefit from the changes. [Read more here: How Alzheimer's gets diagnosed may change]. However, the panel says that's not what they want to happen. "The goal of these criteria was to provide clinicians with a foundation for what they could do in the community," Albert says. "The last thing you want to do is tell someone they have Alzheimer's dementia when they don't."