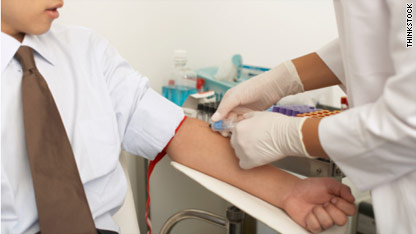 Elevated cholesterol – particularly LDL, or bad cholesterol – early in life can signal danger later in life, according to a new study.
The study followed more than 3,000 people for 20 years, checking cholesterol levels along the way. At the conclusion of the study, researchers checked partcipants' coronary calcium score – a measure of cardiac risk.
"Of those who had elevated LDL cholesterol levels over 160 [at the beginning of the study], 44 percent had coronary calcification by the end of the study, compared to seven percent in those with optimal LDL levels," said Dr. Mark Pletcher, lead study author, and associate professor of epidemiology at the University of California San Francisco.
Pletcher said although it is no secret that high cholesterol often leads to heart disease, this is among the first studies to show that high cholesterol, even at a young age, can signal trouble later on.
"We found that the damage done early in life appears to persist into adulthood," said Pletcher.
He says people should have their cholesterol checked early in their lives and regularly.
"There is an argument that we wouldn't be treating high cholesterol in children, so why know about it," said Pletcher. "I've always believed that if there's something you want to change, you have to be measuring it. Even without medication, you can affect your cholesterol levels with diet and exercise."
According to the US Preventive Services Task Force guidelines, cholesterol screening is recommended only for men over the age of 35, and women over the age of 45; unless there are significant risk factors that may warrant earlier testing. The American Heart Association guidelines differ significantly, advocating cholesterol testing for both men and women at the age of 20.  And a recent statement by the American Academy of Pediatrics advocates testing at-risk children as early as age 2.
Although these guidelines may be contradictory and somewhat confusing, Pletcher says one fact remains.
"You should be eating healthy and exercising no matter what your cholesterol level is."