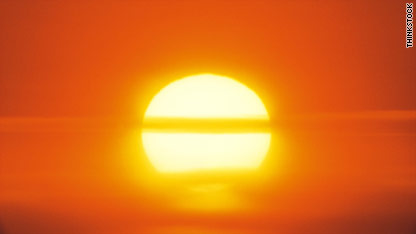 With triple digit temperatures expected Tuesday in 16 states, and the heat index possibly reaching 118 degrees in some areas, it's crucial to know the signs of heat stroke.
Heat stroke – and the less deadly but still serious heat cramps and exhaustion – strike when sweating, the body's usual method of compensating for the heat, just isn't enough to cool the body down.
Some of the first signs you're experiencing problems are muscle pains, spasms, nausea, headaches, or a quick pulse, according to the Centers for Disease Control and Prevention.
Heat stroke occurs when the body's temperature goes over 104 degrees. Someone suffering heat stroke may experience confusion, and fainting. The victim may stop sweating, and skin may become hot and dry, and breathing shallow or rapid, according to the Mayo Clinic.
In Tennessee, Health officials announced Monday afternoon that heat likely contributed to the death of Stuart Evans, a 66-year old Bartlett man who died while mowing his lawn, according to CNN affiliate WMCTV.
Infants, children, the elderly, people who are obese, and those taking certain medications are more vulnerable to the heat. Those medications include blood pressure and heart medicines such as beta blockers and diuretics, seizure medications, antihistimines, and antidepressants, according to the American Academy of Family Physicians.
To prevent problems with the heat, schedule vigorious outdoor activities before 10 a.m. and after 6 p.m. Drink water or other fluids – but not alcohol – every 15 to 20 minutes, even if you don't feel thirsty. Dark-colored urine is a sign you're dehydrated.
Sports drinks can also help, as they replenish the salt lost through sweating, according to the American Academy of Family Physicians.
If you begin to experience the signs of heat-related illness, get out of the heat, drink cool water and get some rest, the CDC says.
CNN Medical Producer Sabriya Rice contributed to this report.