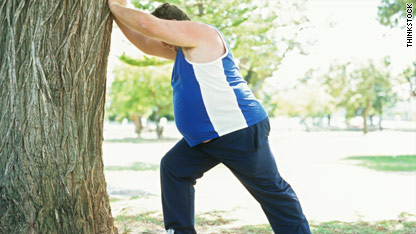 What do you get when you combine a drug used to help people stop smoking with a drug that helps people stop drinking?
It turns out that, in a particular combination, you get a weight loss drug, according to researchers.
A study published in the Lancet found that this pill, known as Contrave, showed promising results in a phase 3 trial. This drug's main components are naltrexone, used for alcoholics, and bupropion, used for smokers and patients with depression.
Both of those component medications have been in widespread use for more than 20 years. But there has never been a weight loss pill approved in any country with this combination of the two drugs, said Dr. Frank Greenway, researcher at Pennington Biomedical Research Center in the Louisiana State University System.
Bupropion stimulates neurons that are involved in appetite, and has been found to cause a small amount of weight loss by itself. Naltrexone, in this formulation with bupropion, leads to even more weight loss because of the way it acts in the brain, Greenway said.
Contrave affects both the appetite centers and the reward centers of the brain, he said.
"This may be particularly useful in people who have craving problems that contribute to their difficulty in staying on a diet," he said.
The most common side effect was nausea, which seemed to be due primarily to the naltrexone part, he said. The nausea usually goes away if people continue to take the medication, he said. But people with epilepsy should not take any drug involving bupropion, which can interfere with the disease, he said.
For the most weight loss success, obese patients would take this pill in addition to dieting and exercising more, he said. Diet drugs are not recommended for casual weight loss, but rather for obese people with a body mass index of 30 or above, Greenway said. People with a body mass index of 27 or above may also benefit if they have type II diabetes, which may improve with weight loss.
"They're usually not something encouraged to be used to lose three or four pounds to get into a bikini for someone who doesn't have a significant weight problem except in their own mind," he said.
The pharmaceutical company Orexigen Therapeutics, Inc. is working on this drug. Orexigen has submitted its application to the U.S. Food and Drug Administration, and could get approval in January, Greenway said.