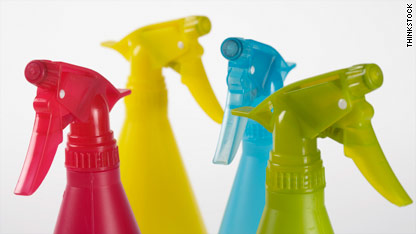 Household cleaning products in spray bottles pose the biggest risk to children 5 and under, according to a study published Monday in the journal Pediatrics.
Spray bottles accounted for two in five cases of poisonings and other injuries from household cleaning products that resulted in emergency room visits from 1990 to 2006, the study found.
The study did not look at why spray bottles resulted in the most injuries, but author Lara McKenzie at Nationwide Children's Hospital in Columbus, Ohio, said they don't have the same child-safety packaging that other bottles and containers do.
"It's just an easy thing for a small child to trigger," McKenzie said.
Injuries from spray bottles remained constant during the 17 years studied, while overall injuries from household chemicals nationally dropped by almost half, according to the study. Poisoning was the most common diagnosis.
Children from 1 to 3 years accounted for almost three-quarters of the cases, and bleach was the product resulting in the most injuries, the study found.
McKenzie said the decline in injuries from household cleaning products appeared to stem from a combination of factors including increased parental awareness, development of poison control centers and a law requiring furniture polish and drain and oven cleaners be sold in child-resistant packaging.
"We're still seeing a lot of cases," McKenzie said.
A total of 11,964 children five and under went to emergency rooms after exposure to household cleaners in 2006, the most recent year of the study.
McKenzie said parents should adopt an "out of sight, out of reach" approach to household cleaning products, and spray bottles should be switched to the closed or off position between uses.
She also recommended keeping household cleaning products in their original containers and not transferring them to kitchen or drink containers. And she said parents should keep the poison control number by the phone.