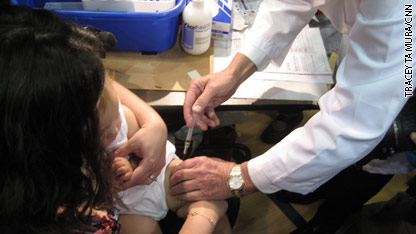 Anyone looking for protection against the seasonal flu may soon find it available at a doctor's office or nearby clinic.  Manufacturers have begun to ship the 2010/2011 seasonal flu shots and sprays.
Glaxo SmithKline, Sanofi-Pasteur, Novartis and MedImmune (maker of the flu spray FluMist) have announced that their flu vaccines are being shipped to distributors.
In the end, 155 million doses of flu shots and sprays should be available for the upcoming flu season, if all goes well with the manufacturing process.  On Friday, Sanofi Pasteur announced that the first of more than 70 million doses of vaccine have been shipped and GSK plans to supply more than 30 million doses of vaccine.  Novartis said Thurday that  it plans to ship about 40 million flu shots and MedImmune began shipping  it's first of 15 million sprays on July 21.

More vaccine should be needed this year because the Centers for Disease Control and Prevention is recommending for the first time that everyone 6 months and older should get a seasonal flu vaccination.  The CDC announced Thursday that is was adopting the recommendations of its vaccine advisory group from earlier this year.
A year ago at this time, flu activity was unusually high for the time of the year because of the spread of  new H1N1 strain.  This summer, the CDC says the number of flu cases is low.  Making vaccine available sooner should help people get protected long before the flu season actually begins to pick up again.
CDC spokesman Tom Skinner suggests that  if vaccine is available earlier people should try to get it. "We want people to get vaccinated, so if vaccine is going out and people can get it, then get it," Skinner tells CNN.  He says there's no harm in getting a flu shot now rather than waiting until the fall, when people are used to getting their flu shots because "we know the vaccine is effective for 6-8 months, which should take you well into April of next year."
Flu shots and sprays for the upcoming flu season will include the 2009 H1N1 strain, better known as swine flu, as one of the 3 strains included in the vaccine.
Last year the flu season peaked in October due to the emergence of the new pandemic flu strain, which was responsible for virtually all flu illness last year.  The CDC estimates that by the end of the 2009/2010 flu season at least 60 million people or about 20 percent of U.S. population had gotten sick from the new flu strain.  More people sought medical attention for flu-like symptoms during the H1N1 flu pandemic than almost any season since the CDC started reporting these numbers in 1997, according the CDC's Morbidity and Mortality Weekly Report. Only the 2003 – 2004 season could match last year's number of doctor visits.
CNN's Saundra Young, Leslie Wade and Intern Carrie Gann contributed to this report.