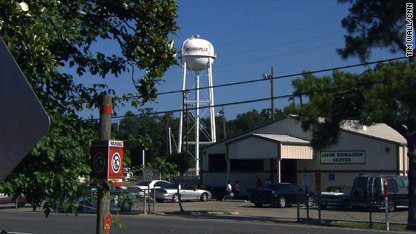 A doctor told a House committee Thursday that reducing pollution in "hot spot" communities such as Mossville, Louisiana, was one reason Congress should overhaul the law governing toxic chemicals.
Dr. Mark Mitchell, who has served on the Environmental Protection Agency's National Environmental Justice Advisory Council, sited Mossville and West Louisville, Kentucky, as communities surrounded by chemical plants, including plastic manufacturers.
"These 'hot spot' production communities have high rates of disease and premature deaths," Mitchell said at a House Energy and Commerce subcommittee hearing.
CNN featured Mossville in Toxic Towns USA, an hourlong Dr. Sanjay Gupta documentary that aired in June. [Toxic Towns USA re-airs on CNN, Saturday, July 31, at 8 p.m. and 11 p.m.  ET]
Mitchell was testifying in favor of The Toxic Chemicals Safety Act of 2010, which has a provision for "hot spots" such as Mossville. The law would require EPA to name 20 communities in the first five years and develop action plans to reduce disproportionate chemical exposures within a set time period.
In Mossville, blood tests have shown residents have dioxin levels three times the national average, and residents claim the 14 chemical plants surrounding their community have resulted in cancers and other illnesses.
Dioxins are carcinogenic chemicals. Among the industrial sources of dioxins: vinyl chloride production, wood treatment and waste incineration. They are also produced naturally by volcanic eruptions and forest fires.
Mitchell, who is founder and president of the Connecticut Coalition for Environmental Justice, also said the proposed chemical law would push companies in Mossville and elsewhere to produce safer plastics.
"I believe that these facilities would not have been allowed to perform so poorly in the first place if they were located in more affluent communities," Mitchell said. "I also believe that these facilities should be converted to producing the safer plastics that the public is demanding by using green chemistry.  This would put them in the forefront of plastics production, help preserve jobs, spur economic development and improve public health in these communities."
Calvin M. Dooley, president and chief executive officer of the American Chemistry Council, told the committee the bill would be expensive for companies, cost jobs and hurt innovation.
Congress is considering an overhaul of the Toxic Substances Control Act, which was passed in 1976. Critics say the law is outdated and does little to protect the public from dangerous chemicals.
Today's hearing was committee's first on the proposed legislation. There's no timetable for a House vote on the measure. A similar bill has been introduced in the Senate.