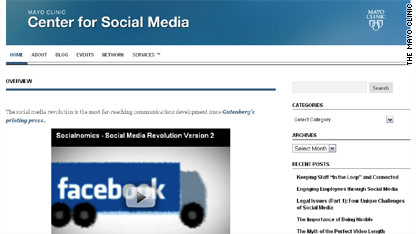 Social media tools aren't just about sharing links or chatting with friends; they can also be a valuable tool in health care. Hospitals are starting to harness that potential to better assist patients in making informed choices, and doctors in connecting with patients.
To that end, the Mayo Clinic has created the Center for Social Media, an initiative aimed at both health care professionals and patients.
Some of the services of the center include training for health care employees, consulting and coaching for organizations that want to engage in social media activities, information resources, and conferences and other events.
In September, Mayo Clinic will announce more details of a social media network to engage other members of the health care community. This will be a "learning network" of organizations dedicated to making social media helpful for patients, said Dr. Victor Montori, endocrinologist at the Mayo Clinic, who helped launch the social media efforts.
The center builds on the initiatives that Mayo Clinic has already taken in the social media world. The clinic has a popular  YouTube channel and thousands of followers on Twitter and Facebook. It also has 12 different blogs that focus on topics such as cancer, pregnancy, and safe sex.
Through these various channels, the public can learn about health issues, new research on specific diseases, and find out about doctors at the Mayo Clinic, which also provides reference material for CNNHealth.com. One patient came in for surgery after seeing a blog post about a wrist injury similar to her own, as described here.
For many people, debates surrounding health care have been about government, corruption, and information being hidden, giving the impression that health care is not about the patient anymore, Montori said.
"One of the areas where patients can actually actively pursue bringing health care back, so that it will be about them again, is in spaces where they're able to express this, demand this, and do this in ways that are very effective," he said. "I think social media is one of those spaces."