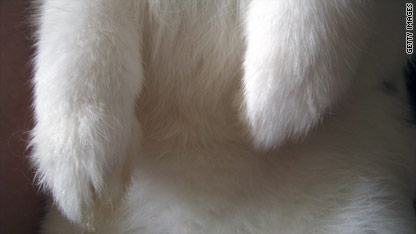 Scientists have successfully regenerated the limb joints of animals with stem cells, giving hope to arthritis patients who need joints replaced.
In a new study in the Lancet, researchers from Columbia University Medical Center, the University of Missouri and Clemson University showed that they had regenerated limb joints of rabbits using the animals' own stem cells.
Here's how it works: Researchers took out the end of the rabbit's forelimb joint. Using laser scanning, they were able to reconstruct, using a computer, a 3-D image of what the joint looked like. Based on that image, they "printed" a scaffold that is the same shape of the joint, using a machine somewhat akin to a computer printer. The scaffold is made of polymers that have tiny tunnels in them.
Next, the researchers put the scaffold into the place where the joint was. They inserted a special peptide - part of a protein - inside the tunnels of the scaffold that recruits stem cells to regenerate the joint. After growing the joint, the rabbits were able to move again normally, the study said.
This is the first time that limb joints have been regenerated from an animal's own stem cells, not cells that were harvested elsewhere, said study co-author Dr. Jeremy Mao of Columbia University. The animal's ability to function again normally after growing the limb joint has also never been accomplished before.
Of course, this has not been yet shown in humans, and the researchers did not take into account the rehabilitation process that a patient would need to go through to get accustomed to the new joint, Mao said. In rabbits, growing the joint took about three weeks on average - it could take longer in humans.
Currently, people with damaged joints must get a metallic replacement that lasts only 10 to 15 years.
Mao could not predict how many years away this joint replacement technology is for humans, as it depends largely on the regulatory process of the U.S. Food and Drug Administration. The next step would be to test it on a larger animal, perhaps a goat because goats also get arthritis.