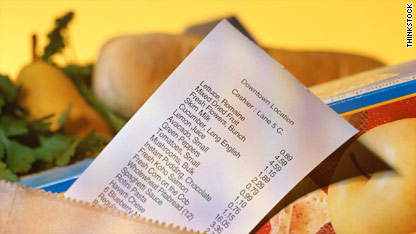 Bisphenol A is back in the headlines this week after a new report found high levels of the endocrine disruptor on 40 percent of receipts from businesses.
Lab results from a study commissioned by the Environmental Working Group found thermal paper used by a number of major U.S. companies including McDonald's, CVS Pharmacy, Kentucky Fried Chicken, Walmart, Safeway, Whole Foods and the U.S. Postal Service had register receipts with 250 to 1,000 times more BPA than products already known to contain the chemical, including  baby bottles and canned foods.
"A typical employee at any large retailer who runs the register could handle hundreds of the contaminated receipts in a single day at work," said Jane Houlihan, EWG senior vice president for research. "While we do not know exactly what this means for people's health, it's just one more path of exposure to this chemical that seems to bombard every single person."
Samples were taken from locations in seven states and the District of Columbia. The receipts came from a number of outlets including grocery stores, gas stations, fast-food restaurants, automatic teller machines  and major retailers.
EWG says scientists don't know how much BPA can transfer to the skin but a Swiss study published earlier this month found the chemical transfers easily from receipts to skin and penetrates to a depth that can't easily be washed off.
But the Centers for Disease Control and Prevention say that human health effects from BPA at low environmental exposures are unknown and that more studies are needed to understand health effects from exposure. They also analyzed data from their National Health and Nutrition Examination Survey program. That survey looks at a national sample of about 5,000 people each year to assess health and nutrition and determine prevalence and risk factors for diseases.
"There is a percentage of BPA in the average American but in terms of register receipts we have not done any type of analysis related to specifics focusing on register receipts," said Bernadette Burden, a Center for Disease Control and Prevention spokesperson. "The CDC's national biomonitoring program utilizes data as well as blood and urine samples from NHANES to understand better what chemicals are in the blood and urine of the average American and BPA is among the chemical makeup of the average person."
Receipts from some retailers were BPA-free or only contained trace amounts. They included Starbucks, Target and Bank of America ATMs. Thermal paper is used for receipts, prescription labels, airline tickets, even lottery tickets. But 60 percent of the receipts EWG sent to the lab did not have significant levels of BPA, suggesting, they say, that companies are already starting to use alternative products.
Appleton Papers, which claims to be the largest thermal paper manufacturer in the country, no longer uses BPA in its product. Kent Willetts, Appleton's vice president of strategic development, says the company stopped using the chemical in 2006 because of safety concerns. "After reviewing toxicology reports and available studies we concluded removing BPA from our thermal products was the responsible thing to do."