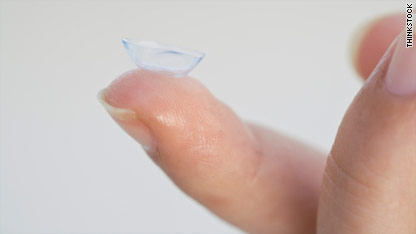 They're tiny, translucent and for kids, they're a pain in the eye.
Contact lenses are the most common cause of medical-device associated injuries among children over the age of 11, according to research published this week in Pediatrics.  The article reviewing medical records from 100 hospital emergency departments between 2004 and 2005, estimated that nearly 34,000 (or 23 percent) of annual cases were due to contact lens injuries in children and teens. 
Contact lenses and glasses accounted for 40 percent of all medical device associated injuries. The lenses were associated with corneal abrasions, ulcerations and conjunctivitis (swelling or infection of the membrane lining the eyelids).  Eyeglasses were reported to cause lacerations to the eyes or face.
The American Academy of Ophthalmology issued a statement reiterating that contact lenses are medical devices that require a prescription, proper fitting by an eye care professional and proper care by the consumer.
If children experience pain, burning, redness, tearing or sensitivity to light while wearing any type of contact lenses, the organization advises checking with your eye doctor.