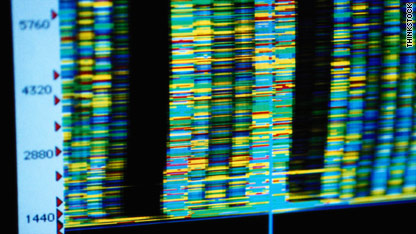 If you've considered purchasing one of the many products allowing you to perform at-home, personalized genetics tests, a new government report says, don't waste your money.
According to an undercover investigation conducted by the U.S. Government Accountability Office, consumers may fall victim to deceptive marketing and should be wary of products claiming to create personalized supplements, cure disease, and repair damaged DNA. "There is no scientific basis for such claims," the report says.
"It's about time," says bioethicist, Art Caplan, an expert in the field. He says the research just hasn't supported the use of the tests, and that the biggest surprise is how long it took the government to address what he calls "highly advertised genetic scamming."
In a recent blog post, Caplan says, "the government has a proper role to play in making sure that sleazy operators and aggressive entrepreneurs are not simply separating you from your saliva for a handsome fee," and that government is finally catching up with the research.
The GAO report compared results for 15 diseases – including, Alzheimer's, breast cancer, celiac disease and hypertension – and say the results of the tests were often "misleading and of no practical use to consumers." Among the flaws: Results for one patient could vary widely from one test to the next, predictions sometimes contradicted the patient's real-life diagnoses, and follow-up consultations provided very little guidance or next steps.
Although experts believe the science behind the tests shows great promise for the future, one GAO expert stated, "We are nowhere near really being able to interpret [such tests]."   Caplan agrees. "The genetic revolution has arrived, but it is not ready to take its place as a home DNA test kit next to the pregnancy test in your drug store," he wrote.
The GAO report comes at the heels of a June 14 warning the Food & Drug Administration issued to several manufacturers of laboratory-to-consumer genetic tests that the products cannot be marketed without FDA approval. For more information, here are 3 questions experts say you should ask yourself before choosing to undergo a personalized genetic test.