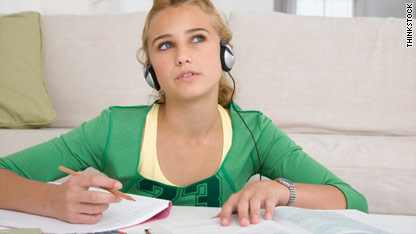 If you're studying for a test, putting on background music that you like may seem like a good idea. But if you're trying to memorize a list in order - facts, numbers, elements of the periodic table - the music may actually be working against you, a new study suggests.
Researchers at the University of Wales Institute in Cardiff, United Kingdom, looked at the ability to recall information in the presence of different sounds. They instructed 25 participants between ages 18 and 30 try to memorize, and later recall, a list of letters in order. The study authors are Nick Perham and Joanne Vizard, and the study will appear in the September 2010 issue of Applied Clinical Psychology.
Participants were tested under various listening conditions: quiet, music that they'd said they liked, music that they'd said they didn't like, a voice repeating the number three, and a voice reciting random single-digit numbers.
The study found that participants performed worst while listening to music, regardless of whether they liked that music, and to the speech of random numbers. They did the best in the quiet and while listening to the repeated "three."
Music may impair cognitive abilities in these scenarios because if you're trying to memorize things in order, you may get thrown off by the changing words and notes in your chosen song, the authors speculate.
Although other studies have found benefits to listening to music before performing a task, the authors note that this new research presents a more realistic scenario: hearing music at the same time as doing the expected task.
In the 1990s, listening to the music of Wolfgang Amadeus Mozart was thought to increase spatial abilities, but subsequent research failed to find the same effect. But other studies have found a "Schubert effect" for people who like the music of Franz Schubert, and a "Stephen King" effect for people who liked a narrated story by that author. The explanation for all of this could be that when you hear something you like, it heightens your arousal and mood, which improves performance, Perham and Vizard note.
The new study does not necessarily contradict those previous findings, but does suggests some limitations on the benefits of music in memorizing lists of things in order, the authors wrote. It may still be the case that listening to music before performing a task like that helps cognitive abilities. But this new research suggests that it might be better to study for an exam in quiet, or listen to music beforehand.
Still, given the small sample size, the study provides only preliminary results that need to be further explored in other experiments.