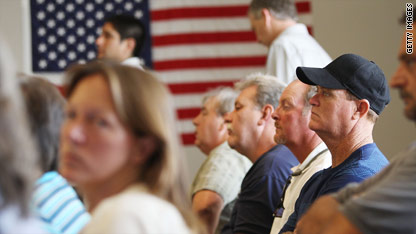 Nearly 60 percent of coastal Louisiana residents in a phone survey indicated that they were constantly worried about the Gulf Coast oil disaster.
More than eight out of 10 respondents reported worrying about their family, friends and community's survival to the complications caused by the environmental disaster, according to sociology researchers from Louisiana State University.
Last week, BP placed a cap over the damaged well in the Gulf of Mexico to stop the flow that began April 20.
No oil leaking as BP conducts critical pressure tests in Gulf oil well
The survey of 900 residents started on June 17 for over two weeks. Here are some of their findings:
Because of their worry over the oil spill:
• 46 percent said it prevented them from getting a good night's sleep
• 43 percent said it prevented from being able to focus on their usual job or work
• 40 percent felt sick to their stomach "some of the time" or 'almost constantly'
• 38 percent experienced headaches or migraines 'some of the time' or "almost constantly"
• 34 percent experienced aches and pains 'some of the time' or "almost constantly"
"The early indications are that the human health impacts of this event are real and substantial," wrote the authors, Matthew Lee and Troy Blanchard, sociology professors at LSU. "Negative affective states, physiological symptoms, and disruptions to daily routines are evident, and are generally widespread. The findings suggest that significant public health resources may be needed to mitigate the pernicious consequences of this disaster for coastal Louisiana residents."
For an in-depth report on the looming mental health crisis  along the Gulf Coast, check back Monday on CNNHealth.com.