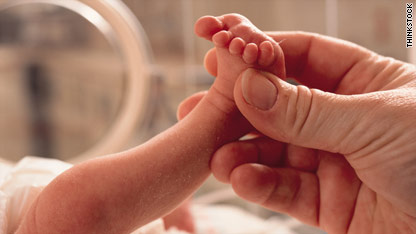 Delivering a baby vaginally after a C-section is a "safe and appropriate choice" for most women, the American College of Obstetricians and Gynecologists said Wednesday.
The practice has been discouraged by many doctors and insurers in recent years.
Under the new guidelines, women who have had two previous C-sections or are carrying twins are among those now considered appropriate candidates for a vaginal birth after Caesarean, or VBAC.   Between 60 and 80 percent of women who attempt VBAC will be sucessful, the doctors said.
The guidelines "emphasize the need for thorough counseling of benefits and risks, shared patient-doctor decision making, and the importance of patient autonomy," says Dr. Richard N. Waldman, ACOG's president, in a press release.  "The current C-section rate is undeniably high and absolutely concerns us ob-gyns."
The recommendations come after years of many American hospitals and doctors insisting women who have C-sections continue to do so with subsequent births.  The rate of Caesareans has increased from 5 percent in 1970 to over 31 percent in 2007.  Waldman blames the "onerous medical liability climate" for the dramatic increase in C-sesctions.   "Our primary goal is to promote the safest environment for labor and delivery, not to restrict women's access to VBAC."
Not every woman is a candidate for a VBAC.  Women who have to have an emergency C-section after attempting a VBAC may have a higher risk of injury. At the same time, a successful VBAC has fewer complications than a repeat Caesarean.  Click here for some of the pros and cons.  Experts say if you are thinking about having a VBAC, it is important to talk with your ob/gyn early in your pregnancy.
The conflict over the policy was captured on CNN in the story of Arizona resident Joy Szabo, who wanted to deliver her fourth child by VBAC. Because the hospital in her hometown, Page, Arizona, did not allow vaginal birth after Caesarean, Szabo had to leave  her family in the last weeks of her pregnancy and move to Phoenix to be near a facility that would allow her the childbirth she wanted.  (She delivered vaginally with no complications last December.)