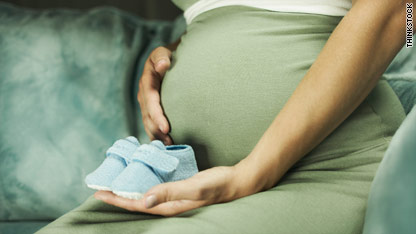 Women who had pelvic radiation before puberty to treat their childhood cancers may be  more likely to have a stillbirth, according to a new study published in the medical journal The Lancet.
"The risk for stillbirth and neonatal death was related almost entirely to the young girls who were treated before puberty," says lead study author John Boice. The key factor to whether a female was at increased risk was whether  she received the radiation before her first period. According to the study, those treated with high doses of radiation to their uterus or ovaries before adolescence are 12 times more at risk for having a stillbirth.
"Radiation impairs growth of the uterus," says Boice, who is the scientific director at international epidemiology institute. The study also found women who received their radiation treatment after they had their first period did not face an increased risk for stillbirths.
While high radiation exposure to the pelvis did increase the likelihood of having a stillborn, the study found, "Chemo was not associated with an adverse affect that was transferred on to the baby," says Boice.  "It's relatively good news that there were no genetic effects that could be linked to the radiation or chemo treatments received."
The study looked at almost 3,000 men and women who had  cancer before the age of 21. Researchers used data from the Childhood Cancer Survivor Study comparing survivors from 25 different oncology institutes in the United States and one in Canada.
While chemotherapy and radiation treatments often leave some survivors infertile, Boice says, "If a woman is trying to become pregnant, she should definitely tell her gynecologist that she is cancer survivor and then it should be discussed whether pregnancy should be dealt with by a specialist."
Previous studies in the Journal of Clinical Oncology found that cancer treatment decreased fertility in female childhood cancer patients.  These studies found that  if those women were treated with pelvic radiation and chemotherapy they were at risk for acute ovarian failure, premature menopause and low birth weight. Another study published 2009 in the Archives of Pediatrics and Adolescent Medicine found women who survived childhood cancer were more likely to have premature or babies with low birth weights, but the babies were not at risk for malformations or death.
Researchers say when male childhood cancer patients received radiation to their pelvis, it did not affect the outcome of future births of their children.