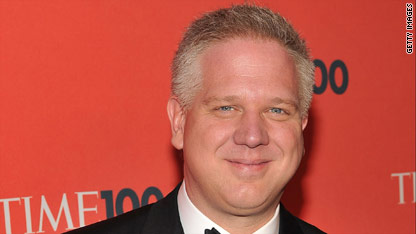 Fox TV personality Glenn Beck announced last week that he has an eye disorder known as macular dystrophy and  "could go blind the next year."
Beck began to cry during the speech at his "American Revival" tour in Salt Lake City, Utah, on Saturday.
"I know what my wife looks like," he said. "I know what my children look like. I have a great imagination. I know what color looks like. But I love to read."
Beck, 46, then joked, "I thought to myself I'm too darn lazy to learn Braille."
He said he was having trouble focusing his eyes and went to a doctor.
Macular dystrophy can be a confusing term, because it's used broadly and interchangeably with several diseases including macular degeneration, a common cause of blindness for Americans over the age of 60.
For someone at the age of 46, the macular dystrophy Beck referred to could be hereditary forms of retina damage, said Dr. David DiLoreto, assistant professor of ophthalmology at the University of Rochester Medical Center, who is not involved in Beck's care.
There are several forms, including pattern dystrophy, adult vitelliform degeneration and dominant drusen.
Their symptoms are very gradual, mild and often painless. The early signs could be tiny blind spots, inability to distinguish objects at a distance or waviness in vision.
"It makes it difficult to perceive small objects such as reading," said Dr. Mina Chung, an associate professor of ophthalmology, who researches retinal imaging and genetic eye diseases at the University of Rochester. "In early phases, it can be very mild, with trouble distinguishing fine targets. In later phases, it can cause legal blindness."
The macula, which is the center part of the retina is damaged. Usually, macular dystrophy in adult onset cases does not cause complete blindness, but it could be "very disabling," she said.
Macular dystrophy is rare compared with the more common macular degeneration, which affects at least one in 10 Americans over  age 65.
Scientists have yet to identify the gene behind macular dystrophy and a cure is not available.
Beck credited his religion for helping him cope. "After I stopped feeling sorry for myself, I truly came to a place which is the greatest blessing: Lord, if you need my eyes, they're yours. They were yours the whole time anyway. Thank you for letting me see as far as I have."