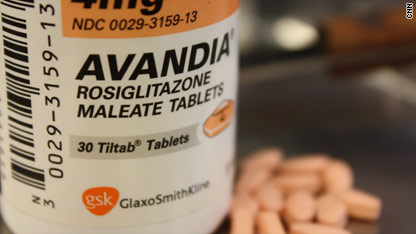 A long-term study on the safety of a popular diabetes drug was put on hold Wednesday by the Food and Drug Administration, while the FDA considers whether it's too dangerous to continue.  Several large studies have linked the drug, Avandia, to a higher risk of heart attacks and other heart problems. While other studies have not found the same risk,  last week an FDA advisory panel recommended that the drug not be sold without a stronger warning label or  possibly limits on who could receive it.
The so-called TIDE trial was ordered by the FDA in 2007, after the first major study suggesting a link to heart trouble. It's designed to compare Avandia with Actos, a similar medication.  The study was the subject of impassioned argument at the two-day meeting last week. A prominent FDA official, Dr. David Graham, said it should be stopped because there was no true benefit to participants and that it amounted to "human exploitation."
"It's a study to establish harm," Graham told the panel. "If the purpose of a study is to establish harm, it's unethical right off the bat. You can do that to laboratory animals, but not to human beings."
Dr. Hertzel Gerstein, the lead investigator of TIDE study, defended the study, saying, "The protocol has been independently reviewed by hundreds of ethics committees around the world."
The FDA panel voted, 20-10, to recommend that the TIDE study continue.
GlaxoSmithKline (GSK), the company that sells Avandia, was supposed to recruit 16,000 patients for the TIDE study, but recruitment has been slower than expected. So far just 1,324 have signed up, spread around 353 medical centers in 23 countries, according to GSK spokeswoman Mary Anne Rhyne. Wednesday's decision allows patients already enrolled to continue in the study, but directs investigators to review the safety issues and what information they provide to patients.
"This pause in enrollment will give clinical trial investigators and patients time to learn about the data presented to the FDA Advisory Committee and the Committee's recommendations," GSK's chief medical officer Dr. Ellen Strahlman said in a statement.
The FDA is still weighing whether to take the panel's advice on a stronger warning label and tighter restrictions, and whether to go even further and pull the drug off the market. A spokeswoman said the TIDE decision was not a signal that the agency is leaning one way or another on those decisions.