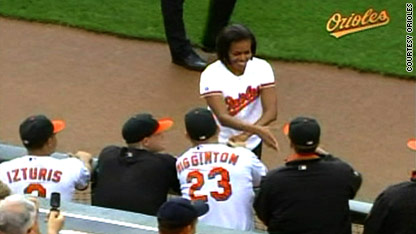 Major League Baseball and first lady Michelle Obama are joining  to fight childhood obesity. Mrs. Obama announced the new relationship at a youth baseball clinic Thursday at Camden Yards, the home of the Baltimore Orioles. Later she helped youth from the Boys and Girls Club throw out the first pitch at the Orioles' game against the Tamp Bay Rays.
MLB and  its Players Association will support Mrs. Obama's "Lets Move " campaign by getting involved in a new public service campaign. Thirty television spots and 30 radio announcements, one for each ball club, featuring a major player from each team will air in baseball stadiums across the country. New York Yankees outfielder Curtis Granderson will be the national spokesperson for the program.
The PSAs will  run throughout the remainder of the season.
"Through these important public service announcements, we will reach even more kids and families about the need for better nutrition and increased physical activity, said Mrs. Obama." I want to thank MLB and the Players Association for their commitment to the Let's Move! campaign."
Launched in February, Let's Move!  is designed to teach young children the importance of nutrition and to inspire them to get up and get moving. It also stresses the importance of parents and caregivers roles in making healthier choices for their children and emphasizes the importance of access to nutritious foods in schools and communities.
"Major League Baseball is pleased to support this vitally important campaign for the young people in our country," said Baseball Commissioner Bud Selig. "The health and welfare of the country's youth is a top priority for Major League Baseball. I applaud the first lady for her leadership in this effort and continue to pledge our dedication towards fighting childhood obesity."