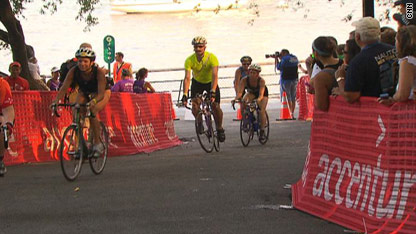 A 31-year-old man from London, England is in the hospital after collapsing during the Nautica New York City Triathlon.  The athlete, whose name is not being released, collapsed just before the finish line, according to John Koroff, the triathlon's organizer.  He spent the night in the hospital where he was monitored.  He is expected to be released Monday afternoon.
In all,  12 athletes were taken to the hospital during Sunday's race.  Koroff says most of them had heat related illnesses.  (One athlete fell off her bike and hurt her wrist.)  The average temperature during the triathlon was 93 degrees.
3,400 people competed in the event, which consisted of a 10 kilometer run, 40 kilometer bike ride and 1.5 kilometer swim.  Considering the heat, says Koroff, 12 people getting ill is not too bad.  He credits good planning.  They had more medical support, more water and more ice.  "The good news is that it worked," he says.
So what happened with the 11 athletes who got sick? Koroff thinks they over did it.  "People get too enthusiastic," says Koroff, "and they don't know their limits."
As any seasoned tri-athlete and they will tell you it's all about pacing.  If you are planning on participating in a triathlon, here are some things you should keep in mind.  First, train properly.  If you are competing in a race, you should make sure you train in conditions similar to conditions you will be racing in.  "If you are running in the Southern California desert, you shouldn't train in the woods of New Hampshire," says Koroff.
Also, it is important to keep your core temp down.  "Stay cool, drink water, pour water over head, slow down," says Koroff.
But the most important thing you can do is train.  Know your limitations.  "You are only kidding yourself if you don't train," says Koroff.